Why buy these ?
                                                             1908 No Motto $ 20 Saint Gaudens

1.)They are private when you buy and sell them.
2.)They carry a  collectible status which with their antiquity makes them protected from government confiscation
3.) They are third party certified authentic by the Numismatic Guaranty Corporation (NGC)
Mint State 64  $ 1,470  (60 coins available) coin pictured above
Mint State 65  $ 1,655  ( 20 coins available)
Mint State 66  $ 2,175  ( only 5 coins available)
No Motto Saints were made this way (without "In God We Trust") for only 18 months thus unknowingly creating a one and a half year type coin. Currently there is no extra premium attached to this coin. Comparing the mintages and the sheer number of dates or mint marks available in these two categories (with motto and no motto) is quite a lopsided endeavor.
 ______________________________________________________________________________________________________________
Coin Agent Instant Portfolio Kit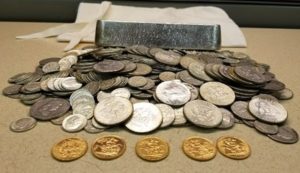 Includes:
5 – British Sovereign Gold Coins (.2354 AGW – Mixed Dates)
$100  Face  Value  Pre-1965  90%  Silver  (Mixed Dimes, Quarters, and Halves)
1 – Johnson Matthey   100 oz Silver Bullion Bar
$4,895  –  Free Shipping
Only 1 Available
Supplies Are Limited
CALL NOW TO ORDER
1-888-494-8889

www.thecoinagent.com